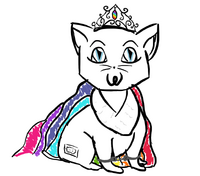 Crimincess Itten the kitten
is the Crimincess (Criminal+Princess) of Meependale. She arrived to Meependale
along with
shortly after her sister Absol as she accidently ruined some of a travelling merchants supplies and had to serve some time in a local dungeon.
Upon her arrival in Meependale, she spread (spammed) rainbows all over of the kingdom which led to her eventual meeting of President(/Emperor) Snow. After reviewing Itten's case, Snow decided that Itten would not be further punished for her crimes. After the trial, he ended up adopting her due to their common interest in rainbows, and thus she became a Princess. Her criminal ways didn't stop there however as she continues to find herself in trouble time and time again and must rely on her royal status to regain her freedom.
Community content is available under
CC-BY-SA
unless otherwise noted.